KETCHBEAUTY AT HOME LASER HAIR REMOVAL IPL HANDSET
Discover the KetchBeauty Classic IPL Hair Removal Handset for effective, long-lasting hair removal.
This IPL is designed for permanent reduction of hair growth within 4-12 weeks, and guarantees 90-day money back satisfaction.
It's clinically proven to precisely target hair while leaving the surrounding skin unharmed, making it ideal for treating any body part - from upper lip & chin to legs and bikini area - within minutes.
Engineered to last 10+ years with a lifetime warranty, delivering up to 300,000 pulses to help you save up to $1379.68 yearly.
Let's be honest... how much do you struggle to remove body hair?
How much do you spend on body care? No matter the answer. What we know is that:

Razors and Chemicals are as quick as they are dangerous, and hair grows back faster and stronger.
Waxing and Electric Epilators are as efficient as they are painful, not to mention that they both waste materials and energy.
Electro epilators and Laser salons are even more dangerous and infinitely more expensive.
Medical Student Does At Home Laser Hair Removal Case Study ft. KetchBeauty IPL Handset- Before And After
Say Goodbye to hair removal creams, razors and strips!
When it comes to at-home hair removal solutions, things can sometimes get a little…hairy.
Wax strips are never fun, shaving just isn't that effective, and hair removal creams smell awful.
Our customers have all said the same thing about this revolutionary new product – they love it!
With up to 8 weeks of no hair growth, the KetchBeauty IPL Handset is the perfect addition to your beauty inventory.

Perfect For Full Body Use
From your sensitive bikini area to the soft skin of your face, our handset can be used on any part of your body without harming or irritating the skin.

Here's How IPL Hair Removal Works



The KetchBeauty At home IPL device works by emitting light pulses that target the dark, melanin-filled hairs. These light rays signals your body to send the melanated follicles into a resting phase.
This resting phase leads to the hair root being separated from the wall of the cell. Once the hair root is floating freely, it can't get access to any nutrients and eventually falls out.
Continuous use of our IPL handset will significantly reduce the speed of hair growth and ultimately stopping it from growing. Learn more about IPL Hair Removal
A Guarantee No Other Brand Can Match!
*We Guarantee Results Within 90 Days or Your Money Back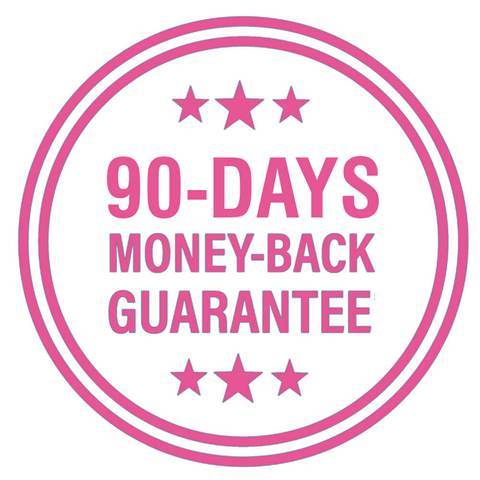 Look – we get it. The IPL Handset is expensive. Good things are never cheap and cheap things are never good, right? So here's the deal... we'd like to prove it to you.
Use our product 100% risk free for 90 days. In the unlikely event that you don't see results, simply contact us at Return@ketchbeauty.com to request returning of your handset and we'll give you 100% of your money back.
Now you can get silky, smooth skin without worry. That's how certain we are that our product will work for you. Sure, some will abuse this guarantee, but most won't. In fact, out of 3000+ orders, we've only had 9 customers ask for their money back
Frequently Asked Questions

Q: How many flashes does this device has?
The device technically has unlimited flashes... However, the lamps can only process up to 300,000 pulses of light through them before becoming ineffective.
Q: Does this work for all skin tones and hair colors?

You should refer to the Fitzpatrick Scale to see if IPL treatments are suitable for your skin tone.
Those with skin tones VI on the scale should not use this IPL.
Also, as red, very light blonde and gray/white hair does not contain enough melanin, IPL energy will not work on these hair colors either.
The KetchBeauty Hair Removal Handset
Quick start booklet
Power supply
Power Cable
Q: How often can I use it?

There have been numerous worldwide studies that demonstrate the safety and effectiveness of IPL for hair removal. Due to this fact, it has become an extremely popular safe at-home treatment.
We always advise that you exercise caution when treating yourself as not everyone is suitable for IPL treatments. Due to the level of melanin in the skin, some darker skin types will not be able to use IPL. The same applies if you have a recent tan.
Additionally, we advise checking with your doctor first if you are taking medication that may make your skin sensitive to light. People with Epilepsy should not use this product as the IPL has a bright flash.
Q: How long will it take before I start seeing results?
Most customers begin to notice a reduction of hair after just 3-4 treatments, with complete results after 12 treatments. However, results vary from person to person.
Most IPL users face some discomfort akin to a rubber band being flicked. However, compared to other treatments offered, IPL is much more tolerable and very popular.
Q: Do I need to wear eye protection?
No, it isn't necessary to wear eye protection while using our handset. Our handsets are fitted with a sensor and will not pulse and light unless the entire window is pressed against your skin. That being said you should never try and look directly into the light as it flashes. People with Epilepsy should not use this product as the IPL has a bright flash.
Q: Which areas of the body can I use this on?
You can use your handset on your entire body, including your Brazilian and face (just be sure to not get too close to your eyes)
Q: Do I need to shave before using the KetchBeauty IPL?
Yes, you should shave the desired areas before using your KetchBeauty handset.
Q: Which hair removal methods can I use between treatments?
Between treatments, you should only shave when required. You should never wax, pluck, or epilate as these hair removal methods remove the entire root, which is what absorbs the light during the treatment.
Q: Can I use this product before or after tanning?
If you have recently been tanning, we recommend waiting 2 weeks before using your handset. You should wait 48 hours to tan after using your handset. Artificial tan should not be on your skin while using your handset.
Q: Is it safe to IPL over tattoos?
You should not IPL over tattoos. However, going around tattoos is fine.
Q: Is it safe to IPL over freckles or moles?
You should not IPL over very dark freckles or moles, however light freckles are fine.
Q: Is it safe to IPL while pregnant or breastfeeding?
Although there is no evidence showing that IPL has negative effects on pregnant or breastfeeding women, we still don't recommend using our handset as a precaution.
Q: How is the handset powered?
Our handsets come with a 12V power supply.